Fuzzy Lights - Helm EP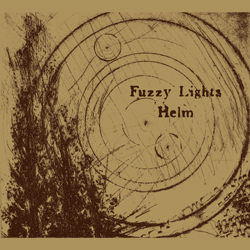 Fuzzy Lights
Helm EP
LRR018
Limited edition CD in 'Stumptown Slim' sleeve - cover art by Gemma Lacey
Release date: 7th June 2010
Listen: Things We Left Behind
About
'Helm' is the first fruit of sessions for their second album 'Twin Feathers'. However, it's something of an oddity, a companion piece to the new album created impulsively and frozen in time. Whilst studio work on the new album paused, core members Xavier and Rachel took off in winter 2009 to a remote converted barn in the Lake District with the aim of writing and recording new songs from scratch. The results, released as 'Helm', take Fuzzy Lights in unexpected directions. From the droning electro and delayed violin of 'Things We Left Behind' to 'Black Diamond's deft fingerpicking and echoed harmonies via the spooked-out vocal piece 'Burn With Light', Xavier and Rachel have found a new and somewhat bleaker place, but one that retains their trademark beauty.
Press
GOD IS IN THE TV
"This is moving, stirring, uplifting music. It soundtracks a wingspan in flight, then a feather tears away, falling into harsh bracken. Excuse the prattling prose. Listen to this EP."

DELUSIONS OF ADEQUACY
"Feels like a finely-matched collaboration between Arab Strap, Thurston Moore and Yo La Tengo. Exceptional."

PENNY BLACK
"If you're obsessed with the likes of Silver Mt. Zion and Godspeed You Black Emperor then this will enthral you and get you digging out those old Constellation Records releases.The creaky violins and distant choral chants juxtapose with the bright hook laden melodies to create a timeless trio of songs. Nothing short of a flawed masterpiece."