Last Harbour - Volo album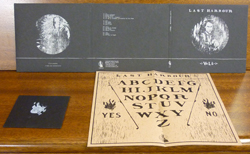 Last Harbour
Volo limited deluxe 2 x CD edition.
LRR016
Release date: 22nd February 2010
Bonus 3" CD featuring reworked album tracks.
About
Based in Manchester, Last Harbour are an expansive collective featuring an array of classical instrumentation as well as guitar, bass and drums. Their new album 'Volo' was co-produced by the band and Richard Formby (Wild Beasts, Herman Dune, Spacemen 3, Dakota Suite). From dusty laments to doom-filled rock, from starkly beautiful duets to drifting clouds of looped noise, there's always an intensity that strikes hard. It's a highly original record featuring the band's strongest songs and most creative arrangements of their career to date.

The band's previous album 'Dead Fires and the Lonely Spark' (2008) was recorded to tape in a week with the band in full control. In deliberate contrast, 'Volo' was recorded piece by piece over a year in various locations and an early decision was taken that Formby alone would mix the results. That freed up the band's songwriting process. Very few of the songs were fully formed before recording began and many took shape and direction through the process of multi-layering instruments, loop creation and shifting arrangements.

Once recording was finished, the band handed over mixing duties to co-producer Richard Formby, who worked with an open remit and no instructions, placing a deliberate loss of control at the centre of the artistic process. Formby's only brief was that he should mix the record as he saw fit - whatever he came up with would be released without any further interference from the band. The result, born first of abandonment and then reconciliation, is 'Volo'.


Last Harbour : 'Volo' album sampler (2010) by LastHarbour
Press
ARTROCKER
"4/5. Rather beautiful and at times menacing, recalling Black Heart Procession and Dirty Three."

UNCUT
*** "With their gothic archness and deathly strings, Last Harbour's fourth LP 'Volo' is their most expansive to date."

MOJO
"'Volo' exhibits so much literary dexterity and multi-instrumental skill you feel almost duty-bound to surrender. Ah, those sweet-melancholic violins shedding soft tears for women and children menaced by dark forces. Ah, the sorrowed seduction of Kevin Craig's cavernous baritone."

CLASH
"A perfectly realised example of their modus operandi."

DROWNED IN SOUND
"Rich and foreboding tracing a thread back to the post-industrial soundscapes of Joy Division."

PICCADILLY RECORDS
"A masterpiece."

AMERICANA UK
"A grand eloquence."

DELUSIONS OF ADEQUACY
"The beatific yearning could be an unplugged slow-mo Joy Division. Consistently accomplished, Last Harbour are true studio artisans."