Anna Kashfi - Survival album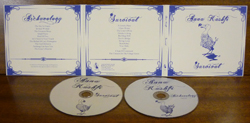 Anna Kashfi
Survival limited deluxe CD edition.
LRR015
Release date: 25th January 2010
Bonus disc 'Archaeology' features 10 exclusive songs and fragments from the vaults.
About
"I was born when you kissed me, I died when you left." So begins the third album from Anna Kashfi, the Manchester-based band named after Marlon Brando's first wife. She was presumed to be an exotic Indian beauty who was later revealed as the daughter of a Welsh steelworker and the duality and tragedy of the real-life Anna Kashfi is a recurring feature of 'Survival'. That sense of characters being vulnerable to the whims of the world and circumstance, of the thin-line between existing and being wiped-out forever.

Sian Webley is the voice behind these characters and she gives them a life, a sadness and a wit that speaks volumes. In 'Drinker's Song' she reflects that "Time has pulled its killer punch, Destroyed the gifts that made us drunk" and you can feel a thousand alcohol-induced regrets stack up on the scales of a life. Many of Webley's words unpick the conflicts between lovers and the emotional battles played out in relationships, but she builds on those games with 'Devil's Bridge'. A duet, of sorts, with Robert Fisher of kindred spirits Willard Grant Conspiracy, the song relates the story of how the townsfolk of a Tuscan town tricked the devil into building their bridge for free. Fisher plays the devil of course, superbly so.

Musically, 'Survival' is Anna Kashfi in widescreen. Where their previous album 'Procurement' (Little Red Rabbit, 2008) moved in slow motion through late-night laments and droning psychedelic folk, on 'Survival' you can really feel producer/arranger James Youngjohns testing how far he can push Webley's vocals. 'String Loop' is built on exactly that and even features electronic percussion before exploding into life whilst 'Red Rag Doll' kicks up a bluegrass duststorm that puts most alt-country acts in the shade. There's even space for an a capella number – 'Loser's Prize' – on which four close-harmony voices assert that "Life is a game that no-one can win", a game where "An honest man loses out". Maybe, but with 'Survival', Anna Kashfi detail a victory worth fighting for.


Anna Kashfi : Red Rag Doll by Little Red Rabbit Records
Press
Q
**** "A delicate mix, tailor made for the freak-folk world. Ace in the hole is vocalist Sian Webley, a kind of folk Beth Gibbons."

MOJO
**** "Truly outstanding."

UNCUT
*** "Literate, often menacing songs about love, sex and God. The highlight is 'Devil's Bridge' with Willard Grant Conspiracy's Robert Fisher voicing the devil in a devastating duet that's one of the best of its kind since Nick Cave/Polly Harvey collaborations."

DROWNED IN SOUND
"Mercurial genre-jumping. The duo explore jazz lullabies, electro-bruised avant garde cinematics and Dolly Parton-esque country pop."

ARTROCKER
"Staggering. Their best record to date."

AMERICANA UK
"Their great leap forward. It should catapult them onto the main stage where they belong. 8/10."