Lazarus Clamp - Against Entitlement album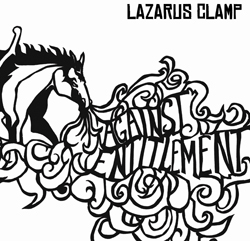 Lazarus Clamp
Against Entitlement Vinyl LP (with CD) and download
LRR014
Release date: 23rd November 2009
About
Lazarus Clamp have been making music under this name for 15 years. 'Against entitlement' is their 5th long-player and their first for Little Red Rabbit (previous recordings were issued on Amberley, Words and Works Rejected, Bearos, and Sorted). They have been described in a Drowned in Sound review as one of the "undiscovered, roughcut gems of British independent music." They have played at SXSW, at Summer Sundae and have toured/played with Giant Sand, Chris Brokaw, David Grubbs, Songs:Ohia, Laura Cantrell, Herman Dune, Bob Tilton, Ligament, Thee More Shallows, A Minor Forest, Last Harbour and The New Year.


Lazarus Clamp : Hard Work Of Simple Things by Little Red Rabbit Records
Press
SUNDAY TIMES
"Their fifth album lays articulate and considered lyrics, softly but precisely intoned, over unexpectedly experimental textures and deconstructed skinny guitar licks, with folksy banjo flourishes and gently lowing strings."

BEARDED
"A blend of Yo La Tengo, The Evens and fIREHOSE, Lazarus Clamp don't sit easily in the contemporary scene. You'd be forgiven for assuming that 'Against Entitlement' is a forgotten gem, lost in the annals of DC hardcore and the variants that followed it throughout the 90s. At one minute [it] sounds a little alt. country before straying back towards the band's post-hardcore roots. Sulky, brooding and utterly brilliant."

R2 (ex-Rock N Reel)
"Bleak, beautiful and burning with a slow sadness, 'Against Entitlement' is a demanding listen, but one which rewards perseverance in spades."

GOD IS IN THE TV
"A collection of great tunes which if they had come from a Pitchfork-approved band would probably be rightly lauded. There's a measured combination of spritely country tinged indie reminiscent of The Decemberists and wistful string arrangements which sound like a more subdued Arcade Fire. This album cements Lazarus Clamp's position as one of the UK's most criminally underrated bands."

MANCHESTER MUSIC
"The album has a bass sound the size of an unpainted Forth Bridge and guitars come across with broken glass jangles. Smashing."

NORMAN RECORDS
"Coming in somewhere between earthy folk-rock & a loose, fluid British take on Dischord-y post-rock, new album 'Against Entitlement' finds them in blistering form. One of the richest, most satisfying & honest albums I've heard in many, many weeks."

BOOMKAT
"Barbed post-punk styled guitar assaults with a bit of rustic loveliness in the shape of lyrical violin melodies and even the occasional bout of banjo. It's hard to know who you could compare Lazarus Clamp to - occasionally, you might draw comparisons with bands like Hood or Sleeping States, and there's the feel of a more domesticated Sonic Youth but on the whole, this is a band that does a good job of carving out its own distinctive sound."