Last Harbour - Saint Luminous Bride EP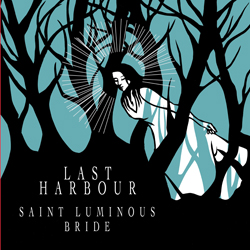 Last Harbour
Saint Luminous Bride EP
LRR012
Limited edition of 350 individually numbered with hand screen printed cover and insert on 10" vinyl & download
Release date: 25th May 2009
MYSPACE: Saint Luminous Bride
About
This 10" vinyl EP (limited to just 350 copies) from Manchester-based collective Last Harbour features one of the standout songs from last year's 'Dead Fires & the Lonely Spark' album, plus three others from the same sessions that are equally beautiful but also bleaker and heavier in mood. They're the perfect uncomfortable bedfellows on a record that takes the warning fables of Edgar Allen Poe and weds them to music of dark passion and fervour.

The title track 'Saint Luminous Bride' is twisted, off-kilter rock that revels in the flesh and blood allegiances of a deranged wedding party while 'The Rifleman & The Bird' is an eastern drone lit by lilting folk-violin. 'Brothers' begins low and dreamy but resolves like a Russian polka filtered through a Godspeed You Black Emperor!-style crescendo. The brief string piece 'Hewn' closes the EP on a haunting and tender note. The package features a stunning sleeve design by singer K Craig, each one screenprinted by hand.
Press
CHANNEL 4 PLANET SOUND
A dark, drunken waltz, Kevin Craig's cavernous vocals out-gloom Tindersticks as the mournful strings kidnap your soul. Equally grimy and gorgeous. 8/10.

DIE SHELLSUIT DIE
"Sounds how Bon Iver might if they only played at wakes. [It] crackles with revolutionary vitriol and melancholy."

GOD IS IN THE TV
"It is impossible not to fall in love with vocalist K Craig's apocalyptic tone. Last Harbour are in touch with the old Manchester, channelling the ghosts of the industrial age, a gloom that predates 'Closer' and 'Unknown Pleasures' by a century and a half. Those who possess a morbid curiosity or an appreciation for the darker arts will be in for a treat."

TERRASCOPE
"Comparisons to Arcade Fire and Nick Cave aren't far from the mark. Great stuff."

BOOMKAT
"Dark and ghostly... very alluring in an eerie sort of way."


PENNY BLACK
"A skewed piece of dark country noir, almost heart stopping in its turbulence. [This is] a record of intense quality from a unique band."

DELUSIONS OF ADEQUACY
"With a gorgeous hand-printed sleeve in a limited run of 350 copies, this is a compulsory acquisition... could be a disease-ravaged pirate ship shanty if it were co-written by The Gun Club's late-Jeffrey Lee Pierce and Henry's Dream-era Nick Cave."

MANCHESTER MUSIC
"On "Saint Luminous Bride", an understated EP of reflection and sombre, almost gothically sweet melody, Last Harbour present an almost nostalgic take on cigarette-smoke-thick, lovesick melancholia. There are alluring comparisons to be made with Johnny Cash embracing Nick Cave but singer K Craig has his own timbre that reminds me much of Ian McCulloch and bands like iLiKETRAiNS . This is a tempting collection, with the excellent, stretched tome "Brothers" providing a subdued sense of the spectacular. Excellent. 4/5."