Kalbakken - Then I Saw Summer And Sun On The Earth album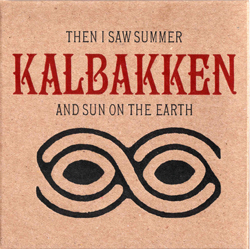 Kalbakken
Then I Saw Summer And Sun On The Earth
LRR011
CD in letter press printed cardboard sleeve with booklet printed by Incline press Oldham
Release date: 25th May 2009
About
Kalbakken are half Norwegian sibling duo Kirsty and David Nyuus Birchall. They have a background in punk and improv styles but, as Kalbakken, they play their own readings of Scandinavian folk melodies, building new arrangements around old tunes. The group started with one Norwegian song their mother had sung to them as children and spiralled from there, learning melodies passed down through their family and making exhaustive trips to Norwegian libraries to trawl the archives. Kalbakken make unique music that is out of time yet of all time as well. From the gale force, in-your-face thrust of 'Bjork i Bjalands' to the drone and doom of 'Horpa', it's clear this is not part of any polite, nostalgic folk revival. This is the real deal ñ musicians right now connecting to the blood and guts, fear and dread of centuries-old storytelling. The duo are fearless performers, unselfconscious and willing to abandon themselves to the joy and pain of their source material. Fans of artists as diverse as Nico, Dirty Three, the Finnish folk underground and Bjork will find the music of Kalbakken speaks to them.


Kalbakken : Hvem Kan Segle by Little Red Rabbit Records
Press
METRO
" There's no doubting the hypnotic quality of their haunting music. Their adaptations of traditional songs from their homeland have an alluring mystery to them, fuelled by swirling violins and violent percussion. "

PLAN B
"This beautifully presented debut LP from a Norwegian brother-sister duo sees the traditional folk melodies of their homeland wrestled into new, rough-hewn arrangements - the Nyhuus pair imbue their readings with irrepressible sincerity."

WEARS THE TROUSERS
"13 songs of red-blooded traditional Scandinavian folk...raw and moving. This is dark and powerful stuff."

AMERICANA UK
"Beautiful and haunting Scandinavian folk by way of Manchester. There's pretty much everything you might want in these songs: beauty, dissonance, tradition, experimentation. Though they are all sung in languages I don't understand, the phrasing, the melodies and the music still speak to me - these are folk songs that are connected at some genetic level between countries, cultures and continents. They have a lot in common with some Scottish bands like Harem Scarem or Trembling Bells, and though this was recorded in Manchester it has the ability to transport the listener elsewhere."

TERRASCOPE
"Spine-tingling... This is an album that's something special, undoubtedly, and housed in a beautiful printed card case."

FOXY DIGITALIS
"This Manchester-based brother/sister folk duo have found quite a striking and distinct niche for themselves: adventurous reinterpretations of traditional (and largely forgotten) Scandinavian folk songs. Kalbakken are not mere revivalists, however: many of the arrangements here are quite wild, raw, and occasionally harsh, sometimes even veering into the microtonal avant garde. Kirsty and David exhibit a passion and a refreshing wide-eyed sincerity on their debut that is damn hard to resist. Inspired stuff. 8/10 ."

MANCHESTER MUSIC
"'Then I Saw Summer & Sun On The Earth' delivers a succession of fraught, tense and stark compositions. The slightly unhinged voice of Kirsty stirs up a series of soundtracks that would be equally at home on vast frozen plains, a dry savannah or the dusty desolation of the middle east. Kalbakken refuse to create syrupy twee songs, but instead proceed to scare the hell out of the listener in between their pure, angelic off kilter interludes. A strange, but compelling concoction."

PENNY BLACK
"beautifully sung throughout and, blended with a gentle yet stirringly dark modern folk sound, makes for a really engaging listen. You find yourself being taken away from reality and plunged into their magical world, which is of full dark fables and tales of Norwegian history. It holds a real charm to it which reeled me in instantly."

DIE SHELLSUIT DIE
"Sounds like something Tolkien might have heard in his head, Nordic Morris dancing and rather like something you might hear at an over-enthusiastic Bar Mitzvah. It actually freaks me out a bit and puts me properly on edge in places, and I'm not sure why."